Pronto Woven wins 'Gold' award in the Melbourne Design Awards 2020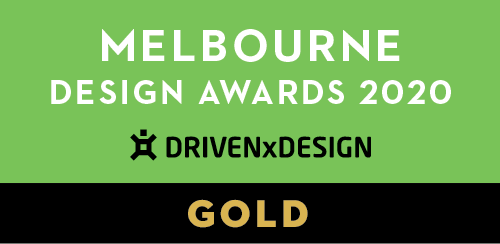 Recognition is in the 'Digital – Business Platforms' category
Melbourne, 17 July 2020 – Digital strategy consultancy, Pronto Woven, proudly announces that it has won a 'Gold' award in the 'Digital – Business platforms' category in the Melbourne Design Awards 2020, DRIVENxDESIGN program.
A global community of over 95,000 members, 9,500 brands and 1,700 studios, DRIVENxDESIGN is the world's largest network of design award programs. The 'Digital – Business Platforms' category honours compelling, flexible and scalable platforms that provide greater business agility and productivity.
Pronto Woven was recognised for the development of a new digital platform to increase customer experience and business efficiency for Lorraine Lea, one of Australia's largest social shopping enterprises for linen and homewares. The solution transformed the front-end face of Lorraine Lea operations, bringing e-commerce and social media to each of the 50,000 parties the business holds annually. Important back office business functions were streamlined – removing the need to lodge orders, invoices, pricing specifications and promotional offerings separately. Inventory management, ordering, invoicing, payments, internal resources and front-end customer experience – were also improved by integrating multiple processes and systems into on one easy-to-use application.
Anne Petracca, Chief Executive Officer at Lorraine Lea said, "I feel this award win is wonderful recognition for the teams who have been so deeply involved and invested in delivering the best outcome for Lorraine Lea. This solution is a game-changer for Lorraine Lea and gives us a new competitive edge enabling us to enter the e-commerce market for the first time and expand our presence as an omni-channel retailer."
"By leveraging this system, this next phase will see us reach a wider audience and extend our core offering. Putting the customer experience at the centre of everything we do, it has ensured our business is equipped to adapt and excel whatever the changing marketplace," Ms Petracca added.
Chris Stolke, Pronto Woven Manager, said: "We are thrilled Pronto Woven has been awarded 'Gold'  in the 2020 Melbourne design awards. It's a very rewarding outcome for what was an amazingly collaborative project with Lorraine Lea. It required us to work with a very complex level of functionality to support all their business processes. We love being able to be a part of stories like Lorraine Lea's where a focus on design simplicity has transformed business operations to elevate the customer experience."
-ends-
About Pronto Woven
Pronto Woven is the digital consultancy division of Pronto Software – an Australian developer of ERP and analytics software. As strategy and technology experts, Pronto Woven delivers digital transformation and integrated eCommerce solutions designed to maximise business results, customer experience and sales revenue. For more information, please visit: woven.com.au

About Melbourne Design Awards
To learn more about the Melbourne Design Awards and view the full list of 2020 winners, please visit: drivenxdesign.com/MEL20/default.asp
About Lorraine Lea
Lorraine Lea is one of Australia's largest social shopping enterprises for linen and homewares. Since 1986, the organisation's business model consisted of a handful of Independent Stylists who engaged with customers via in-home shopping parties.
30 years on, Lorraine Lea has flipped the traditional in-home party model on its head, taking a digital and commerce approach. As Australians continually shift to online and digital channels especially in these current circumstances, Lorraine Lea adapted its traditional in-home party sales model to be able to fulfil the rapidly changing needs of its customers. For more information, please visit: lorrainelea.com
Let's stay connected
Be the first to receive our resources, including news about your industry.