Pronto Xi Financials maximises financial visibility and profitability
With access to the complete financial performance of their organisation, all leaders across the operations gain the insights required for rapid strategic decisions.
The Pronto Xi General Ledger application has the ability to manage the demands of multiple companies in any currency along with multiple budget, hierarchies and cost centres.
The Pronto Xi Accounts Receivable application enables all sales transactions to be processed – with real-time updates to the General Ledger. Very detailed customer information can be maintained – including information flow from Pronto Xi Sales.
Pronto Xi Accounts Payable supports a variety of invoice types and payment options and has the ability to automate invoice processing to save time
Manage the full asset lifecycle with Pronto Xi Fixed Assets. Multiple acquisition and depreciation methods can be utilised – and with full reporting and KPI capabilities, this application is even suited to complex multinational structures with multi-jurisdictional assets and compliance reporting.
Financials Applications Overview
With Pronto Xi Financials gain access to the complete position of your business at any time. Read how core applications — General Ledger, Fixed Assets, Accounts Receivable, Accounts Payable, Resource Management, Payroll and Employee Portal — integrate all financial activities on a single system, delivering the insights necessary to monitor and grow profitability.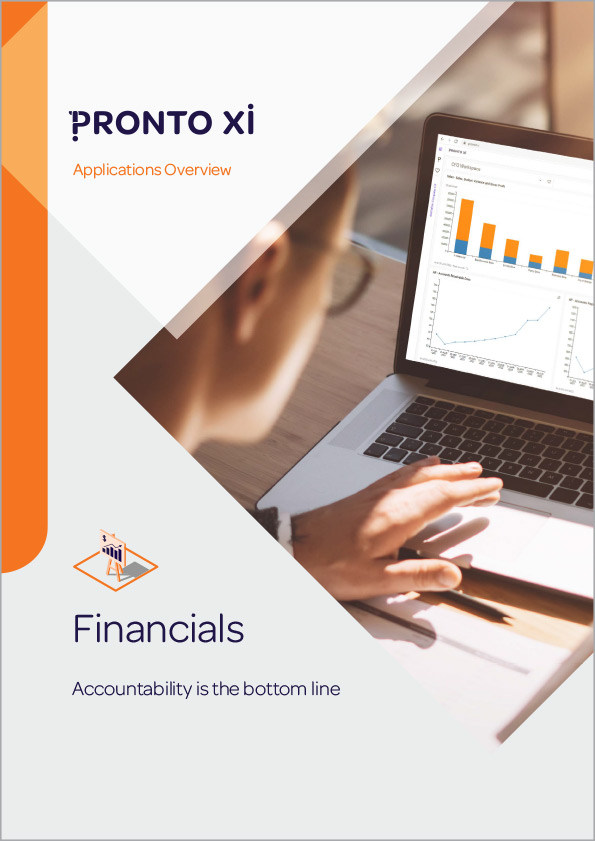 Achieve business goals faster with Pronto Software
One, industry-specific, integrated ERP simplifies
Pronto Xi is modular with applications that integrate accounting, operations and mobile features to optimise business processes, simplify collaboration and accelerate growth.
Expert consultancy & services powers
Specialist business units have expertise in AI-fuelled analytics to drive actionable insights; secure IT infrastructure to deliver agility & resilience – and digital transformation to increase employee & customer experience.
Infusing performance gains to accelerate growth
The legacy accounting software Mediquip used was unable to support growth. They had gaps in key areas such as CRM and sales lead management, purchase ordering, inventory and reporting.
Read case study
Let's stay connected
Be the first to receive our resources, including news about your industry.