Manage relationships, gather insights
With Pronto Xi CRM organisations can excel in customer acquisition, retention and satisfaction. Consolidating all customer, prospect and supplier information creates a single source of truth.
Business leaders can analyse needs with ease to identify who requires the most attention and recognise the business processes that deliver superior service to promote repeat business. All data collected can be fully leveraged to assist sales force automation, customer service/support – and marketing.
Track leads, opportunities, transactions and activities for all accounts/companies and contacts – and use attributes to flexibly add powerful data points that identify and segment CRM data.
For on-the-road teams, Pronto CRM App offers real-time information about product availability, sales orders, quotations, customer specific pricing – and even accepts payments.
CRM Applications Overview
Pronto Xi Customer Relationship Management (CRM) is fully integrated to other Pronto Xi applications and enables the management of contacts across the full customer life cycle. Read how advanced segmentation features and the CRM App empowers sales and support teams – even those working remotely – with accurate information to offer better service and increase sales revenue.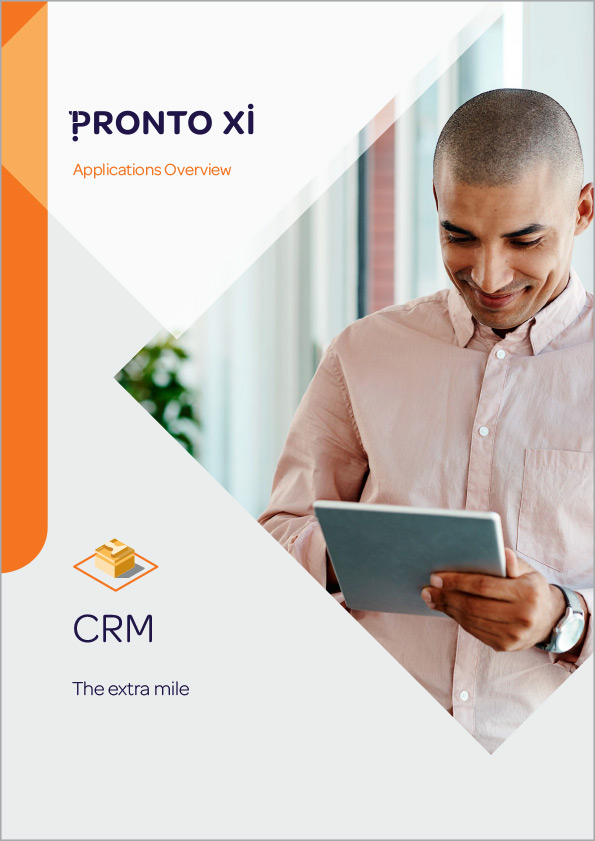 Achieve business goals faster with Pronto Software
One, industry-specific, integrated ERP simplifies
Pronto Xi is modular with applications that integrate accounting, operations and mobile features to optimise business processes, simplify collaboration and accelerate growth.
Expert consultancy & services powers
Specialist business units have expertise in AI-fuelled analytics to drive actionable insights; secure IT infrastructure to deliver agility & resilience – and digital transformation to increase employee & customer experience.
Brushing up on mobility, performance and efficiency
Haymes Paint required a solution that made their sales team more mobile, accelerated employee performance and enabled the business to leverage the efficiency of cloud-based technology.
Read case study
Let's stay connected
Be the first to receive our resources, including news about your industry.