Pronto Xi Payroll & Resources - Maximise the potential of your assets
Payroll and Resource Management places the details of the company's most valuable assets in front of decision makers, enabling them to effectively respond to changing priorities. Get a complete view of your workforce and equipment, wherever they are located, in one secure system.
Pronto Xi's fully integrated Payroll module gives you complete control over employee pay requirements, as well as the flexibility needed to manage multiple pay frequencies.
Empower employees and increase efficiency with the enhanced Employee Portal – providing direct access to employee-related information such as timesheets, pay slips, leave requests, balances and more.
Plan and manage both human and non-human (asset) resource requirements in a single module with Resource Management
Resource Scheduler, an intuitive single- system web application, allows you to efficiently allocate and reschedule resources, teams and equipment, reducing hours of manual work and eliminating disparate systems.
Payroll & Resources Applications Overview
With Pronto Xi Payroll & Resources maximise the potential of your assets. Read how the applications — Payroll, Human Resource Management, Employee Portal, Resource Management, and Resource Scheduler —ensure your everyday human and equipment processes are manageable and easy to access.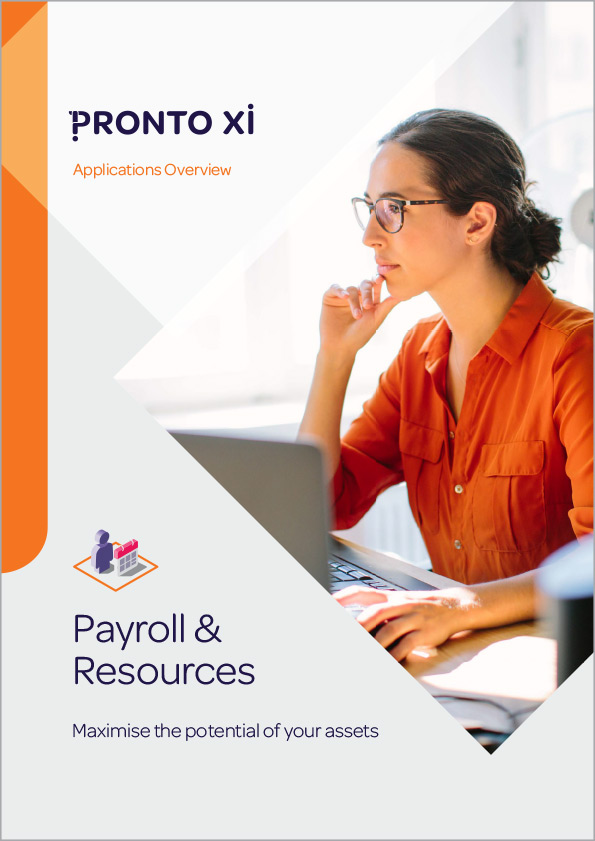 Watch Pronto Xi Resource Scheduler at work
Achieve business goals faster with Pronto Software
One, industry-specific, integrated ERP simplifies
Pronto Xi is modular with applications that integrate accounting, operations and mobile features to optimise business processes, simplify collaboration and accelerate growth.
Expert consultancy & services powers
Specialist business units have expertise in AI-fuelled analytics to drive actionable insights; secure IT infrastructure to deliver agility & resilience – and digital transformation to increase employee & customer experience.
Infusing performance gains to accelerate growth
The legacy accounting software Mediquip used was unable to support growth. They had gaps in key areas such as CRM and sales lead management, purchase ordering, inventory and reporting.
Read case study
Let's stay connected
Be the first to receive our resources, including news about your industry.