Your supply chain is the heart and soul of the business.
Hold more stock than you need, or fail to dispatch orders fast enough and the rest of the business struggles. To predict the right time to order, warehouse and ship your goods you need to have a clear understanding of fluctuating customer demands, shifting logistical costs and an increasingly complex supplier landscape. Without the right tools you can only make an estimated guess, based on hindsight and a whole lot of luck.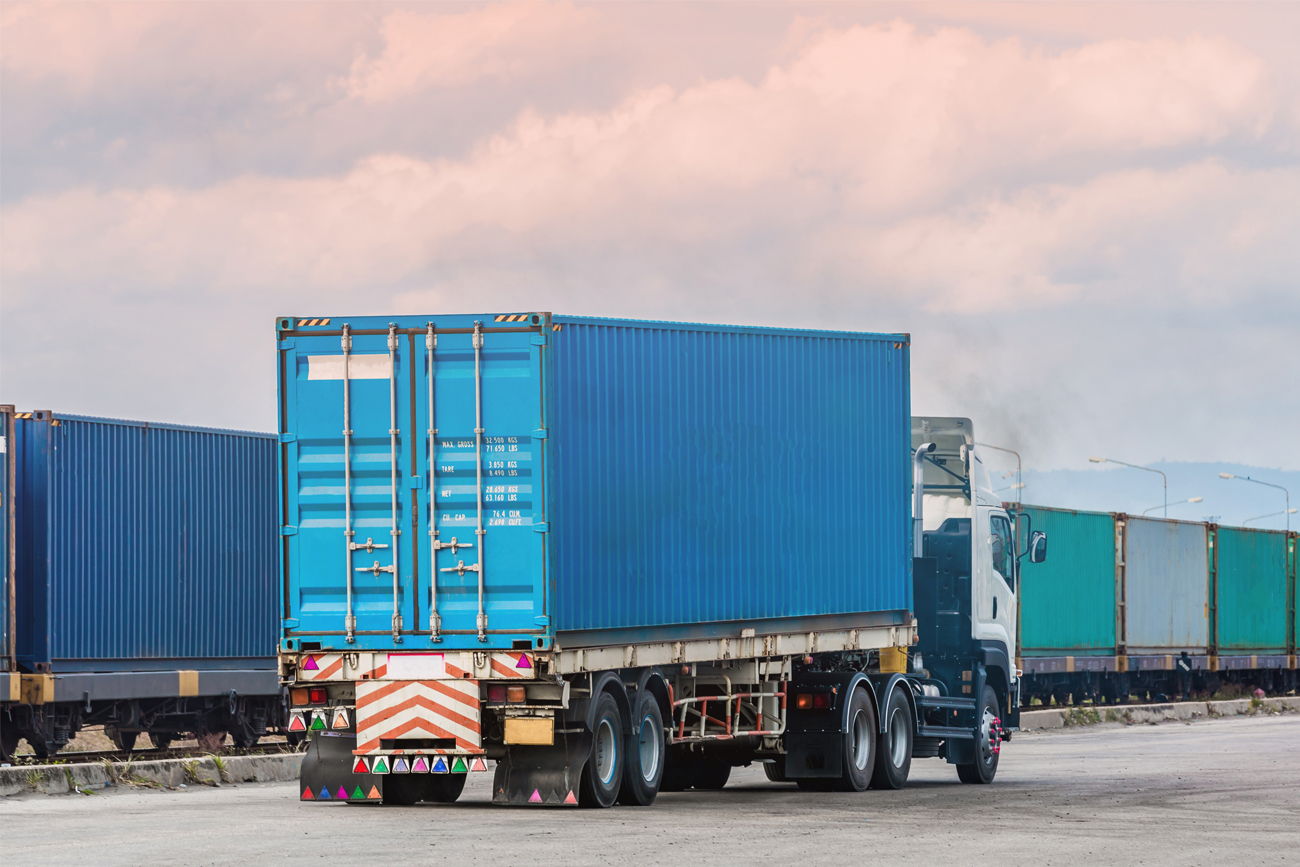 Pronto Xi Supply Chain helps you keep track in real time as well as forecasting how you're going to need to move in the future.
This takes away the guess work. You can plan for the right quantities to be stored, retrieved or delivered based on accurate forecasts and discover new levels of efficiency through process automation. With Pronto Software, your incoming and outgoing goods are delivered efficiently and intelligently when and where you want them.
Supply Chain Applications Overview
With Pronto Xi Supply Chain you have full visibility across your entire supply chain – from planning distribution and forecasting stock requirements to warehouse management.
Read how Advanced Forecasting allows you to predict trends – and learn how costs can be reduced with reduced errors and administration overheads.
Reduce supply costs
Lower your supply chain costs by accurately forecasting quantities required, optimising your inventory and reducing the cost of manual administration, data errors and shipping costs.
Maximise efficiencies
By automating repetitive and predictable processes along the supply chain you can reduce human error, unintended delivery lags and create an intelligent, efficient supply chain.
Complete oversight
For complete supply chain transparency, live tracking of all your stock levels and movement lets you know at a glance where every order is in real-time, while helping you share this information with suppliers, partners and customers.
Warehouse Management System
Distribution Requirements Planning
Advanced Forecasting
Electronic Data Interchange
Radio Frequency
Scanpack
Catalogue
Warehouse Management System
Create an intelligent warehouse with Pronto Xi Warehouse Management System. Flexible three-dimensional warehouse layouts allow you to define the layout of your warehouse exactly, and where items are stored. To create faster picking, managers can specify optimal picking paths, picking methodologies, quantities, and order prioritisation. Intelligent top-up routines mean sales orders are automatically released when replenishments are required.
Distribution Requirements Planning
Pronto Xi DRP simplifies even complex supply chain planning, helping you to plan how goods will flow through your entire network of warehouses, distribution centres, branches and suppliers. Plan at the factory level through Master Production Scheduling (MPS) and Materials Requirements Planning (MRP), and set up automatic replenishment that takes into consideration supplier priorities, transport costs, lead times, inventory targets and product costs.
Advanced Forecasting
Access accurate, reliable inventory forecasting, to know exactly how much you'll need, and where and when you'll need it. Pronto Xi's Advanced Forecasting tool factors in sales orders, goods shipped and inventory transfers, as well as trends and seasonal fluctuations. View by time period, factor in market events and trends, and apply advanced forecasting methods to get a clear view ahead, all on one screen.
Electronic Data Interchange
Pronto Xi EDI is a collaboration tool that makes it easier to exchange information and trade with suppliers, partners and customers via a Value Added Network (VAN). This interchange provides a fully auditable order trail of purchase orders, shipping notices and more, and its true flexibility means it can fulfil the electronic trading requirements of a wide range of retailers.
Radio Frequency
Go paper-free with our radio frequency module. It uses electronic and barcode processing to electronically transmit orders from Pronto Xi Sales to your operators' handheld or vehicle mounted terminals, eliminating standard errors. When integrated with other Pronto Xi modules it can be easily tailored to a range of business activities, including automated stocktaking, order picking and replenishment, with a configurable interface for each user.
Scanpack
Keep tabs on your sales and despatch processes with a state of-the-art wireless and paperless scanning system. This technology scans and tracks large numbers of cartons and pallets via barcode technology to increase the accuracy of your warehouse inventory and better manage your trading partners' expectations. It fully integrates with Pronto Xi Inventory, Warehouse Management System and Finance modules to enhance visibility.
Catalogue
Keep lists of all your suppliers' items in the one place. The catalogue management system helps you define and store thousands of items from supplier catalogues whether they are inventory you have on hand, or not. Each catalogue item can hold virtually unlimited information including technical product specifications, supplier or manufacturer information, prices, and part numbers.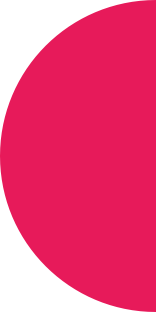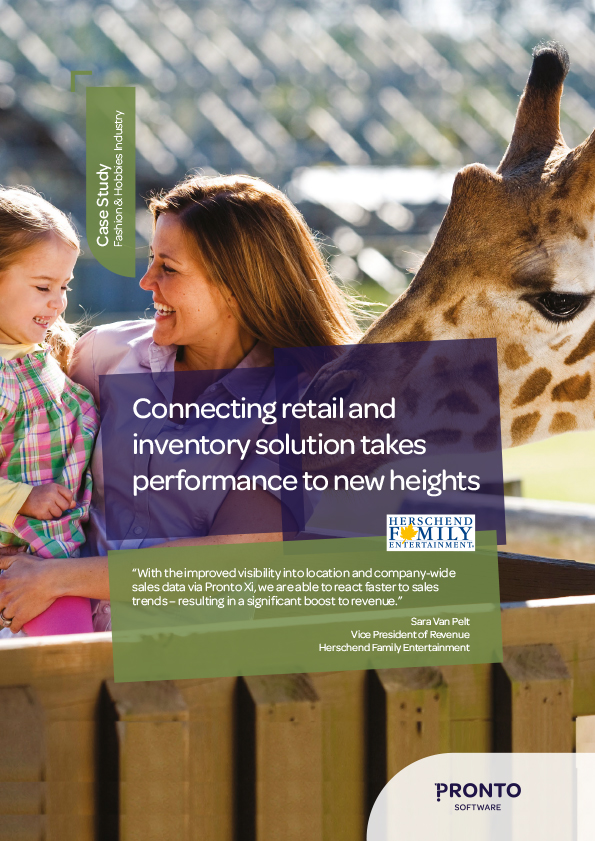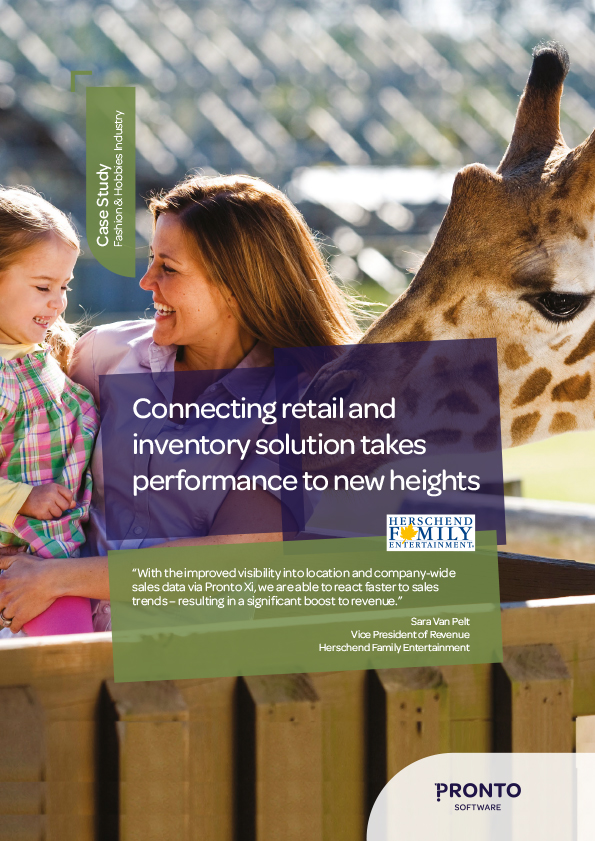 Herschend Family Entertainment - Connected retail and inventory solution takes performance to new heights
Herschend Family Entertainment's (HFE) company mission is Creating Memories Worth Repeating® by producing wholesome, immersive family entertainment experiences. This symbolises the group's unwavering commitment to excellence which requires an absolute focus on constant improvement and innovation across all areas of its business – including technology.
Explore other Pronto Xi Applications
You Might Be Interested In:
You Might Be Interested In:
Five action points to consider when reviewing business software
When you run a growing organisation, there's a point where you need to consider upgrading or investing in new business…
Five action points to consider when reviewing business software
When you run a growing organisation, there's a point where you need to consider upgrading or investing in new business…
Be the first to receive our resources, including news about your industry.