Streamline with integrated back and front end
With Pronto Xi Retail deliver an omnichannel experience and gain actionable insights to nurture customers with exceptional service. As an end-to-end system it manages everything from product inventory to selling on multiple sales channels.
Pronto Xi POS supports multiple tender types including buy-now, pay-later solutions and varying sales types such as refunds, exchanges, lay-bys, customer accounts and quotations. The flexible way to create POS workflows and custom screens that handle desirable product selling scenarios increases productivity. With Pronto POS app, teams create a great experience with the ability to complete transactions from anywhere – at the convenience of the customer. Staff have access to all product information, customer shopping history and the ability to take payments – even when offline.
Pronto Xi Avenue simplifies eCommerce with powerful functionality and an engaging and intuitive user interface on any device – delivering frictionless online shopping and exceeding customer expectations.
Retail Applications Overview
Pronto Xi Retail offers a fully integrated Point of Sale (POS) and eCommerce application to manage all aspects of operations, end-to-end. From product inventory management to creating personalised promotions that can be designed and triggered based on defined rules – this sophisticated application provides the tools for exceptional customer experience to drive sales revenue. Read how the Pronto POS App even empowers retailers to serve and take payments offline – with full access to product and customer information, pricing and promotions.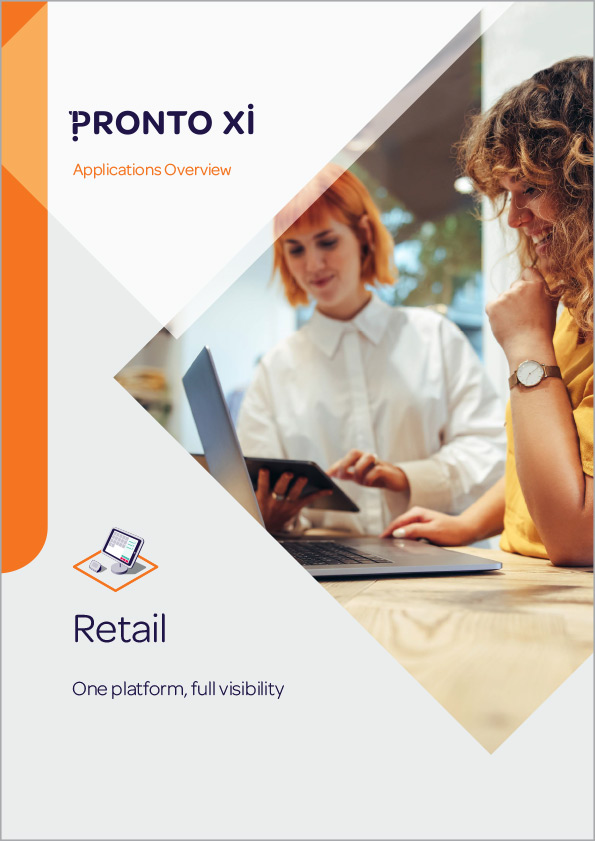 Achieve business goals faster with Pronto Software
One, industry-specific, integrated ERP simplifies
Pronto Xi is modular with applications that integrate accounting, operations and mobile features to optimise business processes, simplify collaboration and accelerate growth.
Expert consultancy & services powers
Specialist business units have expertise in AI-fuelled analytics to drive actionable insights; secure IT infrastructure to deliver agility & resilience – and digital transformation to increase employee & customer experience.
Let's stay connected
Be the first to receive our resources, including news about your industry.