Solving business challenges together, locally
Pronto Software is an Australian developer of award-winning business management and analytics solutions. We have been powering local and global organisations for over 45 years. Our headquarters, R&D and support are located in Australia with multiple resellers across the world.
When you partner with us, you don't just gain an integrated ERP solution but also a team that is invested in your success. With deep industry experience, we have the ability to understand your specific needs and build innovative solutions enabling decision making that drives efficiencies, increasing revenue and ultimately profitable growth.
We have expertise and solutions that manage all the aspects of your business operations. Complementing the ERP, our specialist business units provide expertise in AI-fuelled analytics to drive actionable insights; secure IT infrastructure to deliver agility & resilience – and digital transformation to increase employee & customer experience.
You work with one partner, one platform, one source of truth.
Innovate & thrive with Pronto Xi
Pronto Software's ERP and analytics solution Pronto Xi, takes an organisation's best processes and synchronises them, creating one fluid system to simplify business management. Insights are easily gathered from across a business, helping teams identify every opportunity – from better resource planning to improving customer service, inventory management and more.
Pronto Xi is modular with applications that integrate accounting, operations, and mobile features to optimise business processes, simplify collaboration and accelerate growth.
Discover more
Support & expertise to drive success
With headquarters, R&D and Support in Australia – and resellers across the world, Pronto Software is trusted by over 1,500 local & global businesses.
View Case Studies
Why wait? Experience Pronto Xi ERP live now
Take our short interactive demo to learn more about our core offering and its extensive functionality.
Explore now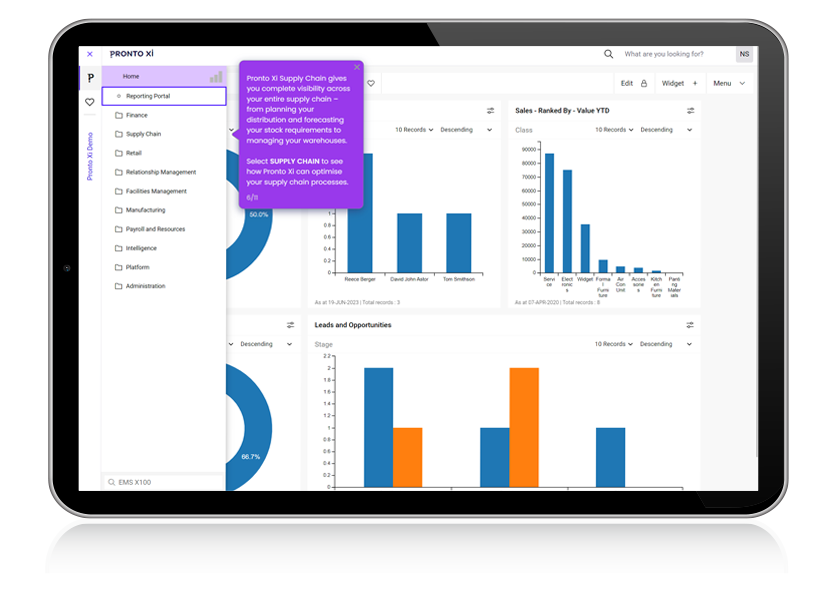 Let's stay connected
Be the first to receive our resources, including news about your industry.