Pronto Xi Manufacturing integrates people & technology to generate competitive advantage
Leverage one source of truth and complete data to maximise manufacturing outcomes. Optimise production planning, scheduling and work order management with detailed tracking of resources and raw materials – and comprehensive feedback on consumption and results. Reduce product cycle times and innovate faster with more fluid operations to fuel new revenue streams. Support continuous improvement and reduce wastage. Strengthen product quality management with tighter process control and meet even the most stringent certification requirements.
Manufacturing Applications Overview
With Pronto Xi Manufacturing ensure operations are lean, scalable and cost-effective. Read how businesses can leverage Shopfloor Manufacturing, Manufacturing Planning, Manufacturing Scheduler, Laboratory and Quality Management to optimise results and reduce waste.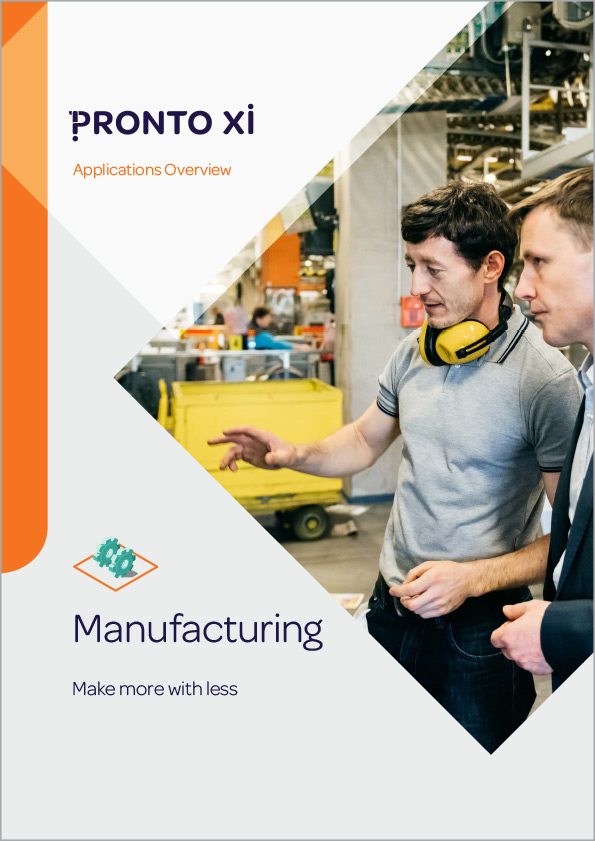 Achieve business goals faster with Pronto Software
One, industry-specific, integrated ERP simplifies
Pronto Xi is modular with applications that integrate accounting, operations and mobile features to optimise business processes, simplify collaboration and accelerate growth.
Expert consultancy & services powers
Specialist business units have expertise in AI-fuelled analytics to drive actionable insights; secure IT infrastructure to deliver agility & resilience – and digital transformation to increase employee & customer experience.
Turning up the heat on manufacturing wastage
Jamie Baensch, General Manager of Air Radiators, a manufacturing & engineering company specialised in heat transfer and air movement solutions, shares how his team cut out 40 hours of inefficiency and achieved an industry 4.0 digital transformation – increasing customer experience and profitability.
Learn more about how other manufacturing organisations leverage Pronto Xi to achieve business goals.
View Case Studies
Let's stay connected
Be the first to receive our resources, including news about your industry.