Pronto Woven wins 'Gold' award in the Melbourne Design Awards 2021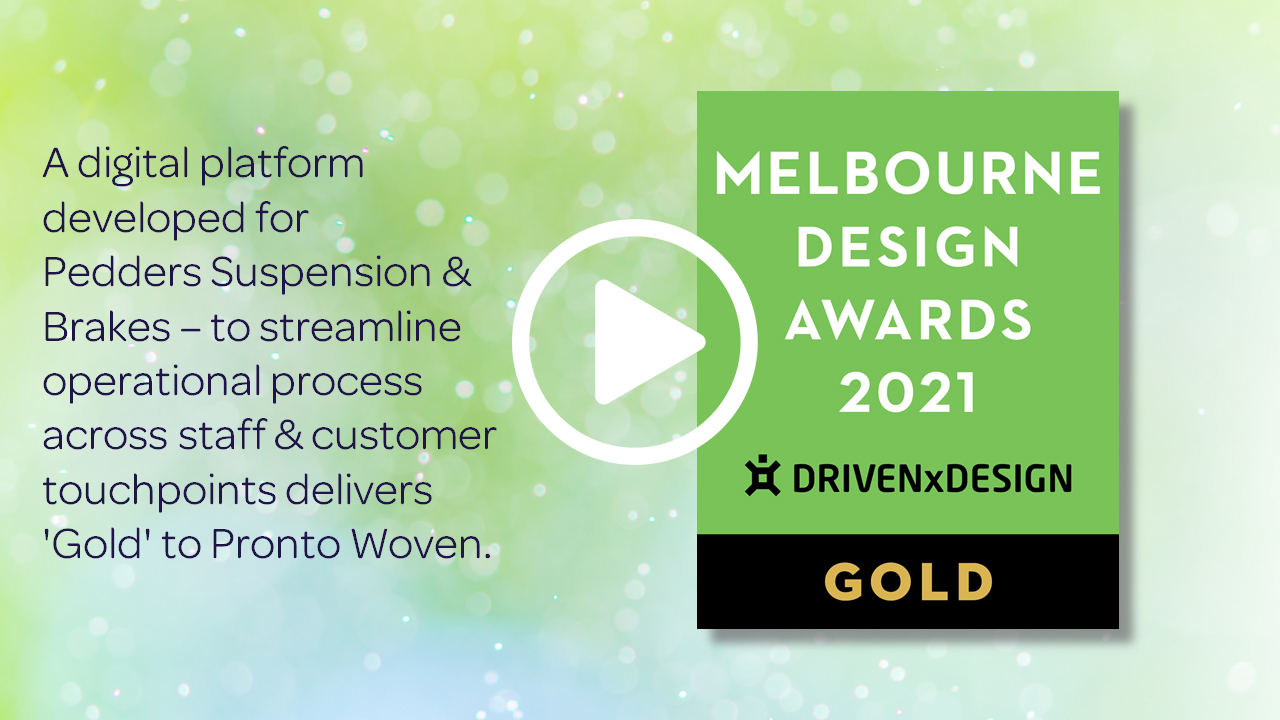 Melbourne, 28 July 2021 – Pronto Woven, the digital consultancy division of Pronto Software, proudly announce that for a second consecutive year the team has won 'Gold' in the 'Digital – Business platforms' category of the prestigious Melbourne Design Awards, a Driven x Design program.
Driven x Design, a global community of over 95,000 members, 7,500 brands and 2,500 studios, is the world's largest network of design award programs and the 'Digital – Business Platforms' category honours compelling, flexible and scalable platforms that provide greater business agility and productivity.
Pronto Woven received the Award for the development of a new digital platform to streamline operational processes across both employee and customer touchpoints at Pedders Suspension & Brakes, a powerhouse in the Australian automotive market.
The Pronto Woven project focused on integrating front-end processes such as bookings and customer communication along with back-office functionality. This ensures all Pedders staff work on one integrated platform, rather than switching between multiple applications. The results included streamlined operational processes with technicians able to record their observations and recommendations online, as vehicle assessments are completed – and that information being available to customers with accuracy and speed. The impact of this change, currently being rolled out to over 50 store sites, has been transformative for Pedders. In terms of staff empowerment there has been positive change – and the availability of complete, real-time data has significantly increased customer experience.
Scott Pedder, Managing Director of Pedders Suspension & Brakes said, "Workshop iQ (solution name used by Pedders) is an exciting example and testament to the four pillars of Pedders – family, quality, specialist and innovation. This is an innovative product that will enable our people to continue to provide specialist advice and quality work. It also brings our people's knowledge and skills together in one platform."
Simon Richardson, Senior Executive – Technology & Systems at Pedders Suspension & Brakes said, "The Pedders team is thrilled that some key elements of our recent digital change program have been formally recognised by the industry. Over the last 71 years, Pedders have continually innovated with our products and services – and we are now also focusing on our platforms and business systems. Workshop iQ is a major step forward in automating the in-store workflow and underpins the commitment of Pedders to quality, workshop operations efficiency and customer service excellence. Building this platform has been a true partnership between Pedders and the Pronto Woven team. The process has focused on the key tenants of anytime, anywhere, any device – plus single source of truth and next level customer service. We are very excited about our digital future and our ongoing strong partnership with Pronto Software, as a key technology vendor."
Chris Stolke, Manager of Pronto Woven said, "Winning Gold in the Melbourne Design Awards is an honour – and for Pronto Woven to achieve this for two years running is simply incredible. This is a testament to my team's deep expertise, outstanding work ethic – and the market-leading customers we are very fortunate to work with. Collaborating with a team like Pedders was a privilege – the team is passionate about breaking boundaries to achieve outstanding results, just like us! Together we leveraged powerful Pronto Xi ERP technology to design and build a best-in-class digital experience for Pedders employees and customers. The Gold Design Award is a terrific endorsement for Pronto Woven's efforts, from global leaders in our space."
-ends-
About Melbourne Design Awards
To learn more about the Melbourne Design Awards and view the full list of 2021 winners, please visit: drivenxdesign.com/MEL21/winners
About Pedders Suspension & Brakes
Pedders Suspension & Brakes is an Australian family-owned company that has been operating since 1950. Its 120 plus franchise and dealer store network prides itself on offering "No Bull" aftermarket parts and tailored vehicle solutions in these key automotive aftermarket product categories: Shock Absorbers, Suspension, Brakes, Steering, Wheel Alignment & Towbars. For more information, please visit: www.pedders.com.au
About Pronto Software
Pronto Software is an Australian developer of award winning business management and analytics solutions. Pronto Xi Enterprise Resource Planning (ERP) software, integrates accounting, operational and mobile features in a single system – optimising business processes and unlocking actionable insights. Over 1,700 organisations have leveraged Pronto Software's industry experience and innovation to increase growth and revenue. For more information, please visit: pronto.net
About Pronto Woven
Pronto Woven is the award-winning digital consultancy division of Pronto Software. The team's innovative solutions transform customer and employee engagement across digital channels – extending the capabilities of Pronto Xi ERP and driving strategic change. For more information, please visit: woven.com.au
Let's stay connected
Be the first to receive our resources, including news about your industry.