Manufacturing: At the intersection of Industry 4.0 & ERP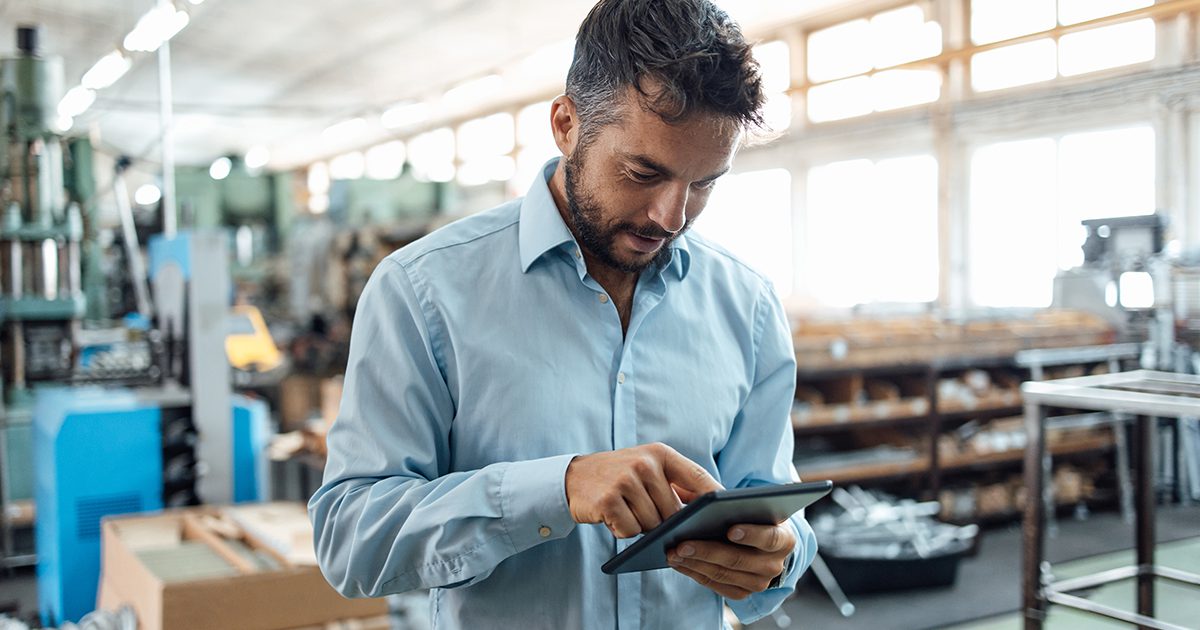 Four Industrial revolutions have happened over a course of three centuries. Driving the emergence of each revolution is the need for humanity and businesses to become more efficient in how they create products and in doing that, bring a lasting positive change to the world. It started with mechanical production that eventually gave way to mass production. IT automated production was the third revolution where many manufacturers find themselves currently but are now on the journey towards Industry 4.0 or the 4th Industrial Revolution (4IR) with cyber-physical production1.
A core driver of 4IR is the need to stay ahead in the face of high competition, commoditisation, rising labour, operational costs, and changing consumer trends. Cost pressures in small-lot manufacturing and mass-customised manufacturing is encouraging manufacturers to seek innovative solutions to remain agile while reducing waste in their operations. As personalisation in physical products becomes more relevant, companies to architect modularity right from product design to operational layout and business processes. This will allow them to produce customised products at scale with optimal costs – opening up new channels of growth.
Factories of the Future
Industry 4.0 or the 4th Industrial Revolution (4IR) enables manufacturers to be agile in their response to dynamic market trends and stay viable in a competitive industry with high labour costs. Introduced first in Germany, cyber-physical systems are at the very heart of 4IR that create factories of the future2. They represent how humans, smart machines, software systems and physical environment are connected to each other. And how this interconnection enables machine data to be generated, collected, stored and analysed for decision making and improvements.
With the help of cloud computing, Big Data analytics and artificial intelligence, large amounts of unstructured data can be converted into self-learning insights. And operational teams can use these insights to make continuous improvements to their highly automated industrial processes – reducing waste while being agile enough to adapt. For example, preventive and predictive maintenance of the machines can be done more proactively when machines will auto-adjust its workings and report on the wear and tear through various sensors. Such decentralised decision making will enable autonomous decision making – freeing up human time for more strategic work, product development and sales growth.
Digitisation of factories will drastically improve the competitiveness of manufacturers in any industry – enabling mass-production of customised products and self-optimised operations with limited human intervention.
A journey, not a destination
Manufacturers fall into varying levels of 4IR capability maturity – from adhoc disparate systems to highly automated operations3. The roadmap to 4IR is long-term in nature with multiple milestones along the way that are influenced by unpredictable future technological changes. And achieving these milestones is a result of strategically overcoming many internal barriers. These include:
Lack of employee skills, experience and technological capabilities3,4
High costs of implementation and long payback periods3
Inability to build a business case4
Varying levels of interest externally across the supply chain3
Data security in the cloud3
These are significant obstacles that result in not knowing where to start. Most businesses start expanding with multiple disconnected systems until the growth pains set in and these barriers seem insurmountable. To break them down, consolidating information across varying departments is needed to gain more operational efficiencies. Enterprise Resource Planning (ERP) software, such as Pronto Xi, help create a single source of truth and remove departmental silos. With enhanced visibility of not only your organisation but your entire supply chain, ERP technology triggers the digital transformation that your manufacturing operation can benefit from. And that is an important milestone3 almost halfway through your 4IR journey.
ERP – At the core of 4IR's success
Think of your ERP as the operational director of your manufacturing processes. By working closely with the Manufacturing Execution Software (MES) and IoT applications, it gives you the insights you need to guide your decisions. The technology stack for a smart factory is vertically integrated. Machine sensors collect and send data over the network up to the specialised IoT software which in turn, interprets, structures, and organises this data. ERP taps into this structured IoT data to help employees take operational and other business decisions. As manufacturers climb higher in their 4IR capability maturity, ERPs continue to play a pivotal role in their technology stack.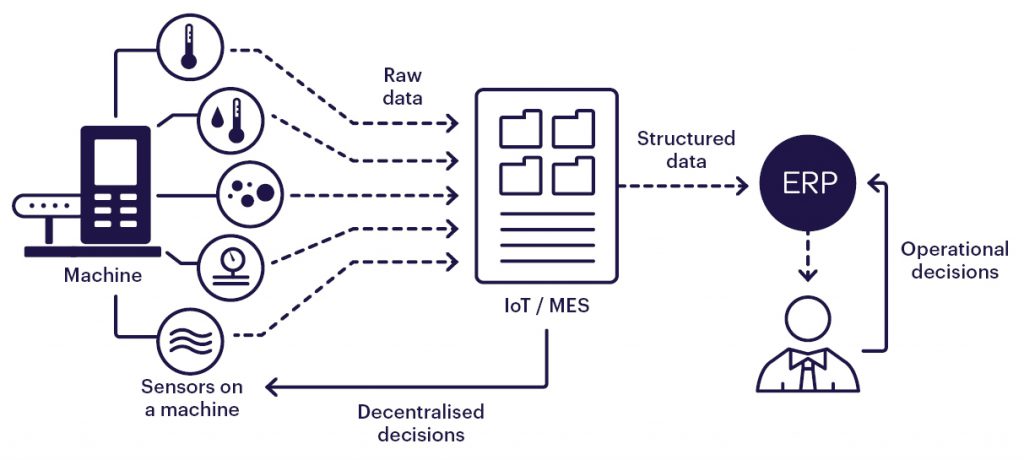 Caption: Flow of data in an 4IR factory
Modern ERPs have in-built analytics powered by artificial intelligence to decentralise some decision making with appropriate controls between machines and humans. And an open API architecture allow external systems, including the IoT software, to send or receive data from the ERPs – making it easy to aggregate data from multiple sources. All this real-time data means that ERPs need large computing power and storage designed to scale infinitely. By adopting a cloud-first approach, modern ERPs have tapped into the dynamic nature of the cloud to ensure that resources are available to process the continuous stream of critical information.
ERPs are beginning to utilise this data in multiple ways as it becomes available. Managing and scheduling preventive and predictive maintenance is instrumental in ensuring that there is no production downtime. IoT systems send alerts for required maintenance based on analysed sensor and production data. This can then be used in automated maintenance workflows to create downtime schedules and plan maintenance work orders well ahead of time.
Real-time feedback from the production floor along with data analytics enables organisations to be very lean in how they make stock available to the markets and make fulfilment promises based on it. Ultimately, it increases the customer satisfaction ensuring that the stock is available as promised. To keep improving the availability promises, planners can readily run continuous production data through advanced forecasting functions to steadily improve the accuracy of the demand predictions. ERP also enable horizontal integration across your supply chain through the usage of Electronic Data Interchange (EDI). While suppliers may be on different ERP systems, EDI ensures that sales orders, purchase orders and invoices flow seamlessly. Automated actions and approval rules can be setup and improved based the live production data, inventory, logistics and sales information. This ensures that your supply chain continues to be as efficient as possible.
Artificial intelligence is often implemented in key areas of manufacturing, warehousing, CRM and more. Continuous learning can be leveraged to build a digital twin5 – a digital model or profile of a real world object or a process that is keeps improving from the past data. Digital twins can be used to simulate real-world scenarios through past data. New product development, forecasts, manufacturing processes, financial models and more can be tested as thoroughly as possible before deciding to build a physical model. By reducing the future risk of uncertainty and failure, businesses can use the digital twin to increase the opposite – the chances of success.
Conclusion
Digital factory investments are considered strategic with a return-on-investment period of two to five years6. By progressively introducing digital processes and tools, manufacturers can break down the barriers and resistance to change. Those who have begun by replacing their disparate systems with an integrated ERP are already on the 4IR journey. Cloud-ERPs with open APIs, built-in analytics and workflow automation have the key components required to take manufacturing to the next level of 4IR capability maturity. When combined with powerful supply chain management functionality, they will help create agile and resilient supply chains – allowing manufacturers to bring differentiated products to the market and explore new markets confidently.
Implementing 4IR is a transformative process that requires commitment from the stakeholders towards continuous improvement. It will ultimately create better cash flows, lean processes, and satisfied customers – giving you a distinct competitive advantage in challenging business environments.
Learn more about how other manufacturing businesses are leveraging ERP to achieve industry 4.0 transformation.
References
1 What is Industry 4.0, RMIT University
2 The Readiness of ERP Systems for the Factory of the Future, M. Haddaraab, A. Elragala, 2019
3 Roadmap Industry 4.0 – Implementation Guideline for Enterprises, International Journal of Science, Technology and Society, 2017
4 Industry 4.0 – Capturing value at scale in discrete manufacturing, McKinsey & Company, July 2019
5 Industry 4.0 and the digital twin – Manufacturing meets its match, Deloitte, May 2017
6 Digital factories 2020 – shaping the future of manufacturing, PwC, 2020
Let's stay connected
Be the first to receive our resources, including news about your industry.