Pronto Software dual winner at the 2018 Australian Business Awards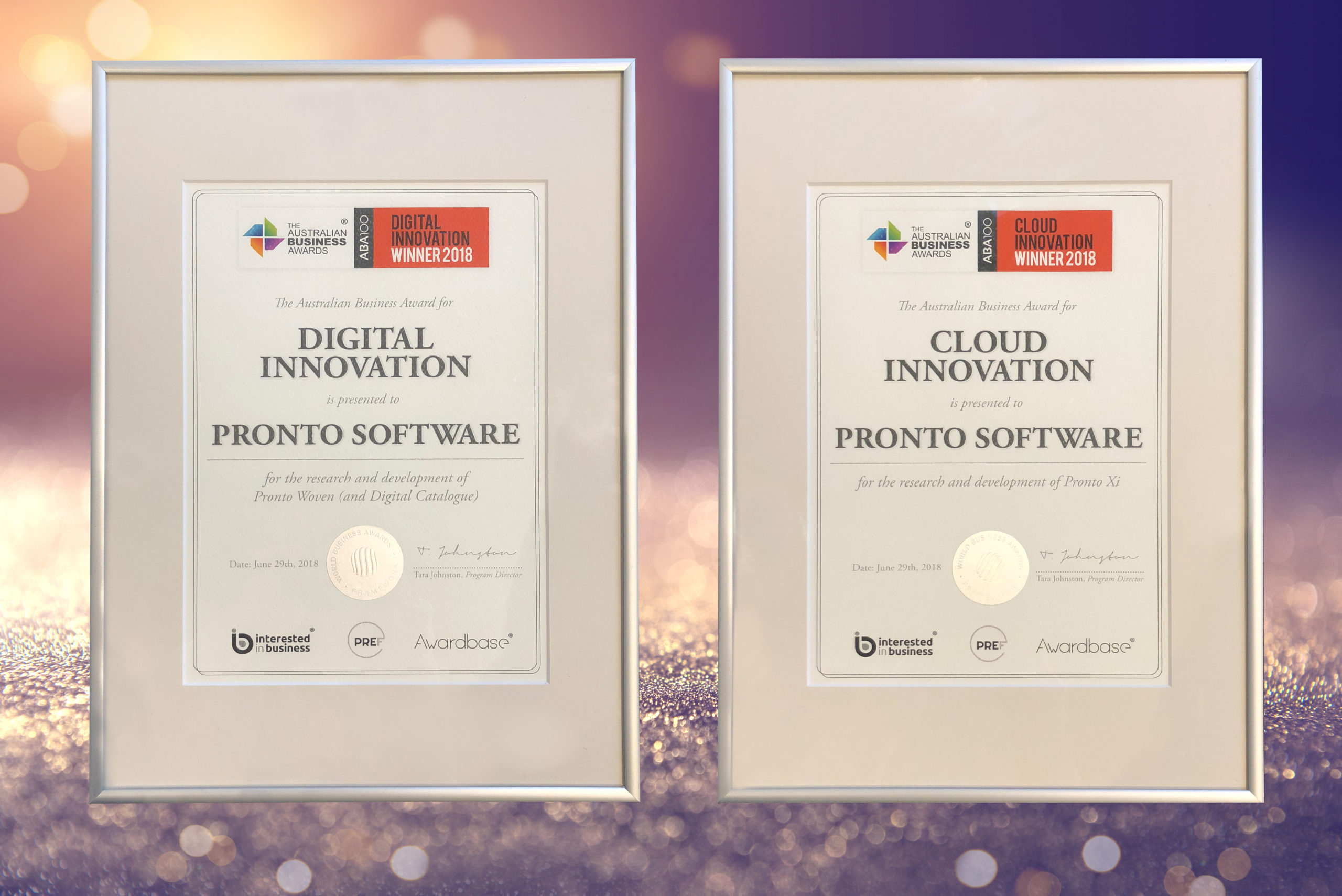 Pronto Software recognised as the ABA100 award winner in the Cloud Innovation category and Pronto Woven recognised as the ABA100 award winner in the Digital Innovation category
Australian technology company, Pronto Software is proud to announce that it has been recognised in The Australian Business Awards 2018 as a dual ABA100 award winner – in the Cloud Innovation and Digital Innovation categories.
According to the ABA, Pronto Software has been recognised for a commitment to product innovation and for achievements in transforming business practices and end user experiences.  This award is a strong testament to Pronto Software's sustained success in software innovation.
Chad Gates, Managing Director at Pronto Software, said: "Receiving the 2018 ABA100 Awards for Cloud Innovation and Digital Innovation is another significant achievement for our organisation. As an Australian technology business with a local research and development team, our business is focused on building innovative solutions that address the challenges our customers face. This is why for over 40 years, Pronto Software has been the trusted IT partner of over 1,700 local and global businesses."
Pronto Woven's Digital Catalogue feature was a standout for judges this year. With this application, businesses can quickly update product information and personalise to meet their customer needs. Mr Gates explained, "We reviewed feedback from our customers which identified a clear gap in the market and worked to provide an answer to the problem."
Successes such as this has led to Pronto Woven recording a 22 per cent increase in its customer portfolio since its launch in 2016 and a 15 per cent growth in annual revenue.
Pronto Cloud which was also launched just a few years ago manages 400 customers, supporting over 18,000 concurrent users. The division has three data centres with 1700+ virtual servers and offers 24/7 real-time system recovery capability.
"Close to 80 per cent of new Pronto customers choose to deploy our flagship ERP solution, Pronto Xi, over the cloud. This is motivated by the clear savings and added security they can benefit from," Mr Gates added.
For more information on The Australian Business Awards and the 2018 ABA100 Winners go to www.australianbusinessawards.com.au.
-ends-
About Pronto Software:
We are an Australian developer of award winning business management and analytics solutions. Pronto Xi, our ERP software, integrates accounting, operational and mobile features in a single system – optimising business processes and unlocking actionable insights. Over 1,700 organisations have leveraged our industry experience and innovation to increase growth and revenue. For more information, please visit: www.pronto.net/about-pronto-software/
Let's stay connected
Be the first to receive our resources, including news about your industry.