Digital Transformation in Manufacturing: Enhancing Competitiveness and Resilience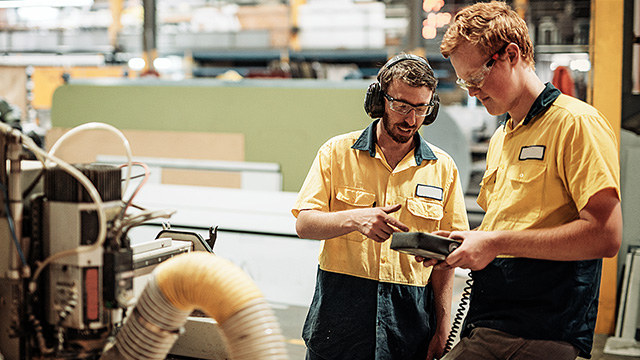 A survey conducted in 2022 found 42% of businesses are still looking to implement digital transformation in 2023. Chad Gates, Managing Director from Pronto Software commented on the statistic, explaining, "People might assume that through the pandemic we would have 'done all that already'. The answer is that it is a journey, not a binary thing. You are on a spectrum; you'll start the journey, and you never really finish it. The pandemic just placed a huge sense of urgency on it."
For Australian manufacturers, adaptability and digital transformation are key elements to staying competitive. Which is especially important when . From managing intricate supply chains to responding swiftly to market demands, manufacturers often juggle numerous tasks simultaneously. Manual tasks or double handling can cause margin for error and take a toll on business productivity. From the same survey, 39% of respondents also selected an Enterprise Resource Planning (ERP) and business management software as key technologies that will support their digital transformation and business objectives. According to Finances online, An ERP solution provides Manufacturer's with clear insights into every part of the manufacturing process and can help identify inefficiencies, wastages, and bottlenecks. This can lead to significant cost savings in production, inventory management, and overall operations.
As ERP software is an integrated end-to-end system, one of the great benefits is the ability to unify business processes and systems. Instead of having disparate applications for inventory management, order processing, production and finance, everything can be managed within a single system. An extension of this is also having better collaboration and shared information across departments.
An Australian manufacturing and engineering company of heat transfer and air movement systems shared with us how their team reduced 40 hours of inefficiency from implementing an ERP solution. They mentioned that as manufacturing in Australia can be difficult, your business needs to be world class to maintain relevancy and remain viable in the market. This digital transformation from manual processes resulted in increased profitability and enhanced their overall customer experience. Their team can now see project status at any time throughout the production cycle and what is happening live on the shop floor, all in one place. Armed with data, they can keep their customers better informed along the entire process in real time.
With ERP systems maintaining all the data in the one source of truth, they can provide real-time data tracking and analytics, providing management with a clear and live snapshot of operations. This data can also help to identify trends, patterns, and anomalies that can be used to optimise operations, reduce costs, and improve efficiency. Integrated data means production schedules can be optimised based on current sales data, inventory levels, and procurement timelines, helping to minimise stockouts or overproduction. Real-time data and analytics are pivotal to manufacturers as the ability to access and analyse data quickly means they can make timely decisions, respond quickly to changes in the market and continue innovating.
While the investment in an ERP software may seem high, the value and ROI you gain is the certainty that the software can scale with your business growth. This need to quickly adapt to change while maintaining that world class quality is a high priority, and it is important that you feel your chosen ERP partner can provide the systems which will support this.
The journey to digital transformation is endless, but it gives room for opportunities. It empowers manufacturers to be more competitive, responsive, and resilient in the face of market uncertainties, evolving consumer preferences, and global challenges.
Let's stay connected
Be the first to receive our resources, including news about your industry.